Cantoni Font Download
Submitted by clearfont on Wed, 08/28/2013 - 22:28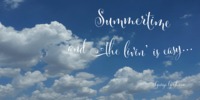 Cantoni Font Information


Cantoni Description and Detail
The Cantoni Font family is a hand lettered font with a variety of standard and alternate characters that play together well. And with a total of 1265 glyphs, you can play for as long as you like.
Additional features include: Roman numerals, Fractions, Ordinals, Ornate and Old Style numbers, Greek symbols, a set of Flourishes, Ornaments and DIY Wedding Words and Images.
It also includes Western and Central European, Romanian and Turkish language support. More…
There are creative and conservative siblings, crazy in a good way cousins, affable aunts and corny joke telling uncles who somehow come together and form one cohesive unit.
The fun begins.
Designers:

Debi Sementelli

Design date:

2013

Publisher:

Debi Sementelli Type Foundry

MyFonts debut:

Aug 22, 2013
Released 5 days ago
Currently #9 in Hot New Fonts